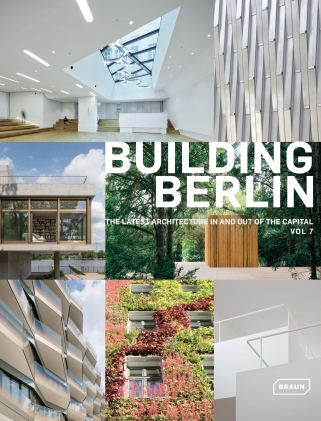 Architektenkammer Berlin (Ed.)
BUILDING BERLIN, Vol. 7 The latest architecture in and out of the capital
Print
03/2018
English
21 x 27
192 pages
350 pictures
ISBN 978-3-03768-237-1
---
Content
Projects:

Headquarter of Federal Intelligence Service in Berlin, Germany (Kleihues + Kleihues)
Communication and Information Center at Erfurt University, Germany (Nickl & Partner)
Stadium FK Krasnodar, Russia (gmp)
Topics:
How Pop-up-Architecture Promotes Social Change
How to Preserve Open Spaces in Densified Cities
What are the Demands and Requirements on Youth Centers
Architecture from and in Berlin has always been a reflection of the current global building sector and a trend indicator at the same time. Whether residential construction, landscape design, or traffic planning – the concepts developed in the German capital are internationally renowned. As every year, Building Berlin once again presents the most interesting projects of the past year.

Thematic essays that add a reflective dimension to the representative examples complement the presentation of the roughly 65 projects across eight chapters. This year, the volume focuses on the mega-theme of densification. The range of solutions for making a city more compact extend from closing gaps on small corner lots, via new buildings that utilize inner courtyard spaces or mini-houses for urban nomads, to temporary commercial architecture and the expansion of universities under the ground.

---
---