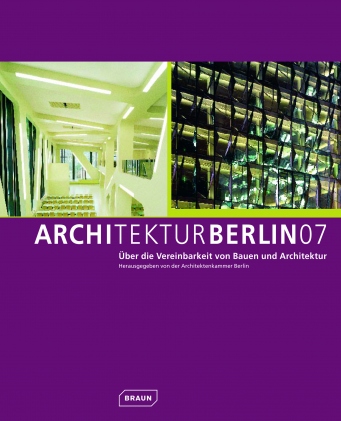 Chamber of Architects Berlin (Ed.)
ARCHITEKTUR BERLIN 07 Über die Vereinbarkeit von Bauen und Architektur
Print
2007
German
Softcover
21.4 x 28 cm
216 pages
380 pictures
ISBN 978-3-938780-29-9
---
Content
da!-exhibition: award-winning projects implemented in or from Berlin 2007
Chronological review of the architectural year 2006
The most important controversies concerning architecture, landscape architecture and urban planning, summarized in editorial contributions.
In its established style this publication combines the richly illustrated documentation of the award-winning projects of one year as part of the exhibition "da! Architektur in und aus Berlin 2007" (da! Architecture in or from Berlin) with critical reflections on the current construction sector. Of course, the chronicle and a review of the events of 2006 are also included, which recall the highlights of the year's architectural events in Berlin.

At the same time there will be a glance backwards: Bernhard Schulz wrote a review of the first yearbook of the chamber of architects of 15 years ago and asks which of the award-winning projects were of a durable quality and which were not.

To the actual state of affairs: After one decade of euphoria and one lustration between resignation and a defiant "go on!", the architecture scene is recollecting its noblest virtues: They are building again: versatile, creative and undogmatic.



---
---