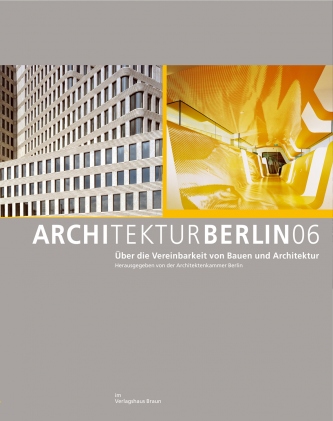 Chamber of Architects Berlin (Ed.)
ARCHITEKTUR BERLIN 06 Über die Vereinbarkeit von Bauen und Architektur
Print
2006
German
Softcover
21.4 x 28 cm
224 pages
336 pictures
ISBN 978-3-938780-04-6
---
Content
da! exhibition: award-winning projects implemented in or from Berlin 2006
A chronological review of the architectural year 2005
The most significant debates concerning architecture as well as landscape and urban planning, summarized in editorial contributions.
For the third time the yearbook of the Architektenkammer Berlin is published by Verlagshaus Braun. In its established style it combines the richly illustrated documentation of the award-winning projects of one year as part of the exhibition "da! Architektur in und aus Berlin 2006" (da! Architecture in or from Berlin) with critical reflections on the current construction sector. Therefore, for the city, its residents and its designers one thing holds true: no stagnancy in sight!

Intense debates surrounded the architectural projects of Berlin throughout the past year. There were arguments stating shortsightedness and dysfunctionality, but also discussing the relationship of commercial architecture and aesthetic responsibility. It remains to be seen whether the design of the ceiling of the newly opened main station / Lehrter station will turn the building into a contemporary "cathedral of transportation" or if it will be reminiscent of a warehouse for travelers.
Looking to the future also involves a number of new decisions. What will happen to the Tempelhof airport? Suggestions for the development of the huge area range from large-scale residential construction to various park concepts. And how is the occupational reality of architects evolving?


---
---