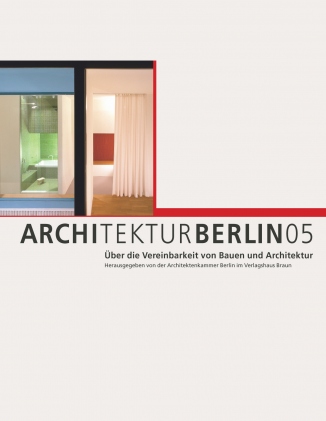 Chamber of Architects Berlin (Ed.)
ARCHITEKTUR BERLIN 05 Über die Vereinbarkeit von Bauen und Architektur
Print
2005
German
Softcover
21.4 x 28 cm
192 pages
295 pictures
ISBN 978-3-935455-81-7
---
Content
da!-exhibition: award-winning projects of Berlin in and from Berlin 2005
Chronological review of the architectural year 2004
The most important controversies concerning architecture, landscape architecture and urban planning, summarized in editorial contributions.
Following the re-launch of its layout in 2004, the 2005 yearbook of the Architektenkammer Berlin also had progressed in terms of content – while maintaining the high content quality of the publication.
The tested topics of the yearbook remained unchanged – primarily, of course, the documentation of outstanding and award-winning architectural projects of Berlin of the previous year – the only compilation of its kind. In addition, critical contributions concerning the urban planning, landscaping and other developments of the sector created an impetus and pointed to what lies ahead.

The past year in Berlin's architecture: exciting, surprising and somewhat scandalous – "Peter Strieder" and "Topography of Terror" – to name only two keywords. A central topic of the yearbook is the planned building development of Friedrichswerder, where contemporary architecture hast to demonstrate its collaborative ability. Another question is how to classify and evaluate the completed Akademie der Künste next to Pariser Platz in regard to contemporary building aesthetics.


---
---