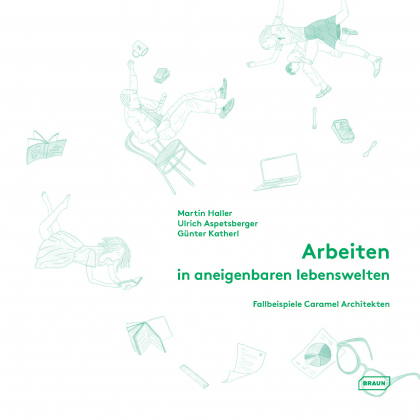 Martin Haller
Ulrich Aspetsberger
Günter Katherl
Arbeiten in aneigenbaren Lebenswelten Fallbeispiele Caramel Architekten
Print
12/2021
German
Hardcover
21 x 21 cm
144 pages
300 pictures
ISBN 978-3-03768-277-7
---
Content
Case studies:
Gizcampus Eschborn, Germany
Science Park Linz, Austria
Caramel office in Vienna, Austria

Chapter selection:
How are changed needs of office users spatially implemented in an individually appropriable living environment?
Which building structures allow for individual appropriation?
How does an individually appropriable living environment change the external appearance of an office building and thus the public space?
In this book, the working environment "office" is used as an example to argue that the "living environment of work" must be transformed into an "individually appropriate living environment" in order to be able to adequately satisfy the needs of office users. The concept is used here as the sum of several areas of life surrounding us, such as housing, work, education or leisure.

On the basis of numerous case studies of the Viennese office of Caramel Architects, different ways to individually appropriate lifeworlds are traced. Excursions to office buildings from the history of architecture and to the current development of working habits embed the topic in the architectural discourse and examine how an individually appropriate living environment can react to the new needs of its users.
---
---